About Us
An Imported Success:
Joe Lenares, born in Canicattini Bagni, Sicily, immigrated to the United States in 1953 aboard the famous Andria Doria. Joe, along with his mother Paulina, made their home in New Britain, CT. Being unable to speak English, Joe's first job at age 12 was delivering groceries for Sorrento Imported Grocery store. Along with delivering groceries, Joe shined shoes and did odd jobs to support his family. Joe learned early that to be successful, hard work was required.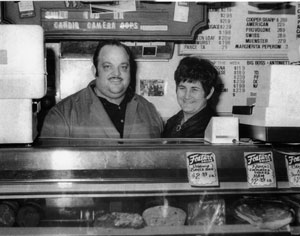 Joseph and Antoinette in 1978 at their first Newington store at
431 New Britain Avenue.
In 1959, Stop & Shop hired Joe to work in the meat department. As he worked tirelessly through the years, he became a meat cutter and, through schooling provided by Stop & Shop, Joe was promoted to meat manager. While at Stop & Shop, Joe fell in love with Antoinette Manocchio, a lovely young woman whose job was a meat wrapper. Antoinette was an immigrant from Baranello, Italy, a region of Naples. Settling in Newington, Joe and Antoinette were married in 1964 with hopes of starting a family and their own business. Joe and Antoinette have 3 children: Joseph, Michael, and David.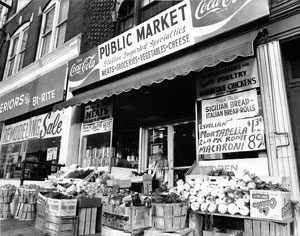 The First Public Market store in 1968
The Public Market Years:
In 1968, Joseph & Antoinette opened Public Market in Middletown, CT. After a successful 10 years in Middletown, they became aware of an emerging Italian population in their hometown of Newington, CT. Despite being cautioned that leaving Middletown would be a mistake, Joe & Antoinette moved their business to Newington in 1978. From 1978-1983, Public Market of Newington operated out of a 700 square foot building. In 1983, the opportunity to expand became available. The decision to move into a 6000 square foot building was a difficult one. With strong encouragement from Sam Lenares, Joe's brother, Public Market made the move. Although scared and nervous, the decision to move to the current location of 437 New Britain Avenue proved to be a successful one
A Family Operation: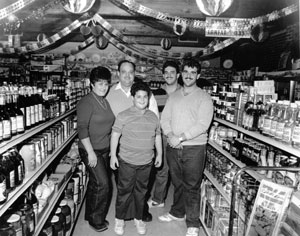 Lenares Family about 1987 at their current location,
437 New Britain Avenue.
Joe & Antoinette, along with their sons Joseph and David, operate their business with the focus being on customer service and quality products. With so many establishments available to customers, Public Market realizes that customer service must be a priority to keep their customers coming back. When in line at the deli or meat counter, you may notice there is no place to take a number. "Customers are people, NOT numbers." -MG
"Customers are not an interruption in our day; they are the purpose of our day." –AP
Public Market of Newington
437 New Britain Avenue
Newington, CT 06111


Phone: 860•667•1454
Fax: 860•666•DELI

Hours of Operation
Mon - Sat: 8am - 6pm
Sunday: 8am - 1pm
During the months of July & August
we are CLOSED on Sundays

GIFT CARDS AVAILABLE

Featured Downloads: Family Entertainment Guide, Catering Menu and Lunch Menu