Deli and Meat
Deli Department:
High volume always leads to the freshest products anywhere.
We proudly carry a full line of the freshest Italian cold cuts including Citterio mortadella, imported Prosciutto di Parma, capicola, and sopressata.
We are pleased to offer a wide selection of Boar's Head items priced well below the "big box stores."
We also carry low salt items such as Land O'Lakes American cheese, Swiss,

ham, and Boar's Head Oven Gold Roasted Turkey (which is recommended by the American Heart Association).
No waiting: Call your deli order in and it will be ready when you arrive!
Lunch:
Specializing in true authentic Italian cold cut sandwiches and grinders.
Our bread choices include hard rolls, 8" grinders, 12" grinders, Portuguese rolls, whole wheat bread, rye bread, and wraps. Paninis are also available and you may create your own or choose from our list of signature creations. Download our lunch menu to see all available choices.
"Customers are people, NOT numbers." -MG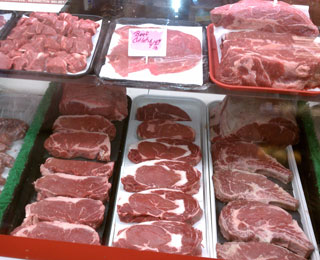 Meat Department:
All meats are cut fresh daily on site.
Hand-Made fresh ground sirloin made multiple times a day… which ensures you are always going home with fresh made hamburger.
Custom orders are our specialty.
Our own hand-made Italian sausage is available both hot and sweet. Our traditional Italian sausage is hand stuffed and is second to none. If you order in 5 pound lots, you may customize your sausage to your liking for example no salt, extra hot, different spices.
From steaks, roasts or chops, we can custom-cut your meat selections any way you prefer (Delmonicos, NY Strips, Prime Rib, Filet Mignon, Bone In Pork Chops, Boneless Pork Chops, etc.).
Let Public Market make your dinner a complete success
Having a Dinner? Need a roast? (Prime Rib, Pork Roasts, Filet Mignon Roasts, etc…) Download a copy of our Family Entertainment Guide…giving you a complete listing of available choices for your dinner.
Need Something Quick?
Let us do the work….Pre cooked Heat and Eat Items: chicken cutlets, chicken parmesan, Italian meatballs, and eggplant cutlets
"Customers are not an interruption in our day; they are the purpose of our day." –AP
Public Market of Newington
437 New Britain Avenue
Newington, CT 06111


Phone: 860•667•1454
Fax: 860•666•DELI

Hours of Operation
Mon - Sat: 8am - 6pm
Sunday: 8am - 1pm
During the months of July & August
we are CLOSED on Sundays

GIFT CARDS AVAILABLE

Featured Downloads: Family Entertainment Guide, Catering Menu and Lunch Menu